osCommerce - Mercado Pago Module (v2.2 - 2.3)
Features
The module of Mercado Pago to OsCommerce is integrated with the feature and payment solutions:
Split payments (Two cards)
Available versions
| Plugin Version | Status | Compatible Versions |
| --- | --- | --- |
| v2.2 | Deprecated (Old version) | osCommerce 2.2 |
| v2.3 | Stable (Current version) | osCommerce 2.3 |
Requirements:
PHP
PHP v4+ (PHP v5+ recommended)
Required extensions: MySQL, cURL
Database
MySQL v3+ (MySQL v5+ recommended)
Installation:
Download Mercado Pago module:

osCommerce 2.2
osCommerce 2.3

Copy the module folder to your osCommerce ROOT installation.
Setup MercadoPago
On your store administration, go to Modules > Payment.

Click Install Module.

Click on Mercado Pago then in +Install Module.

Choose your country: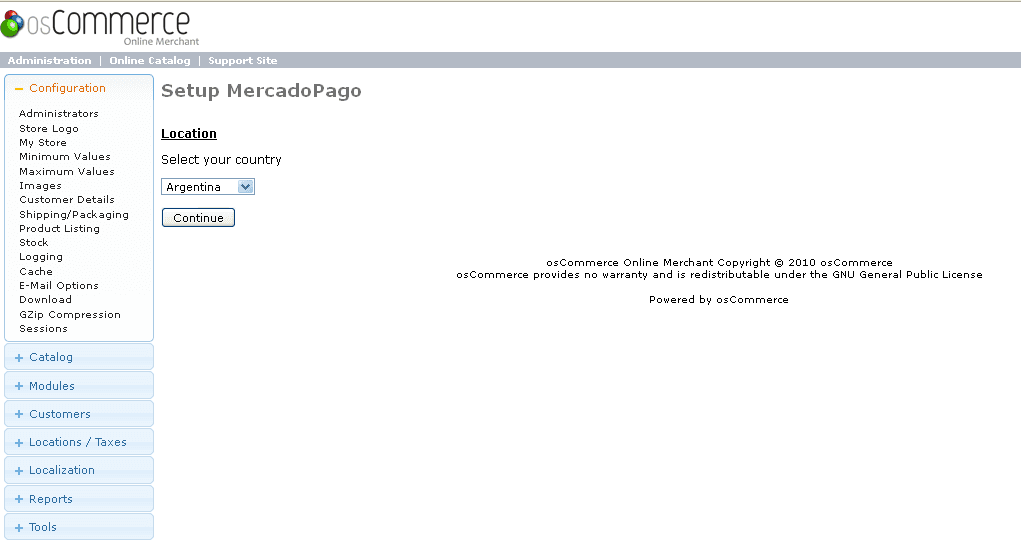 Choose the payment methods that you don´t want to accept in your Store: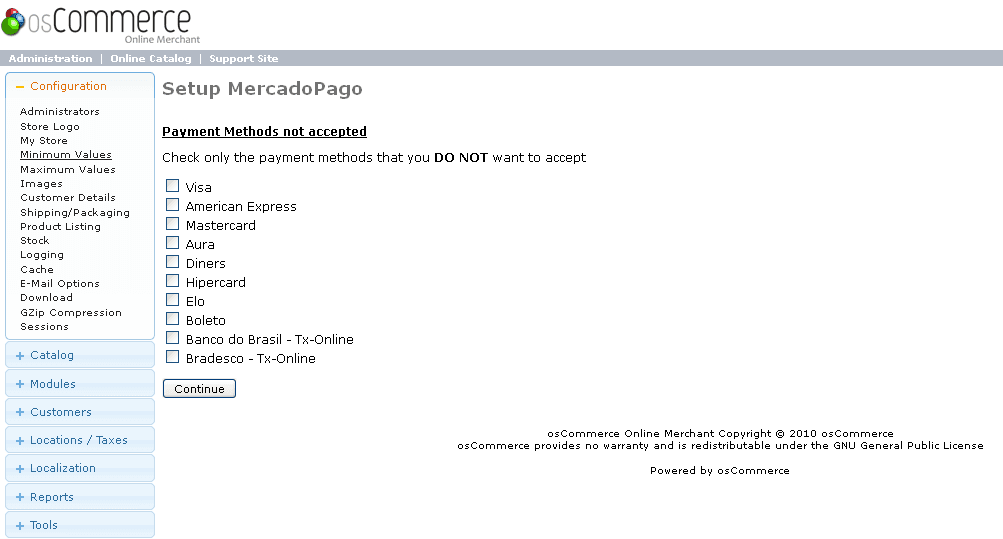 Choose the category on the list that more describe your shop activities.

In the next screen, you will see Mercado Pago listed as a payment method. Now, click on Edit on the right bar.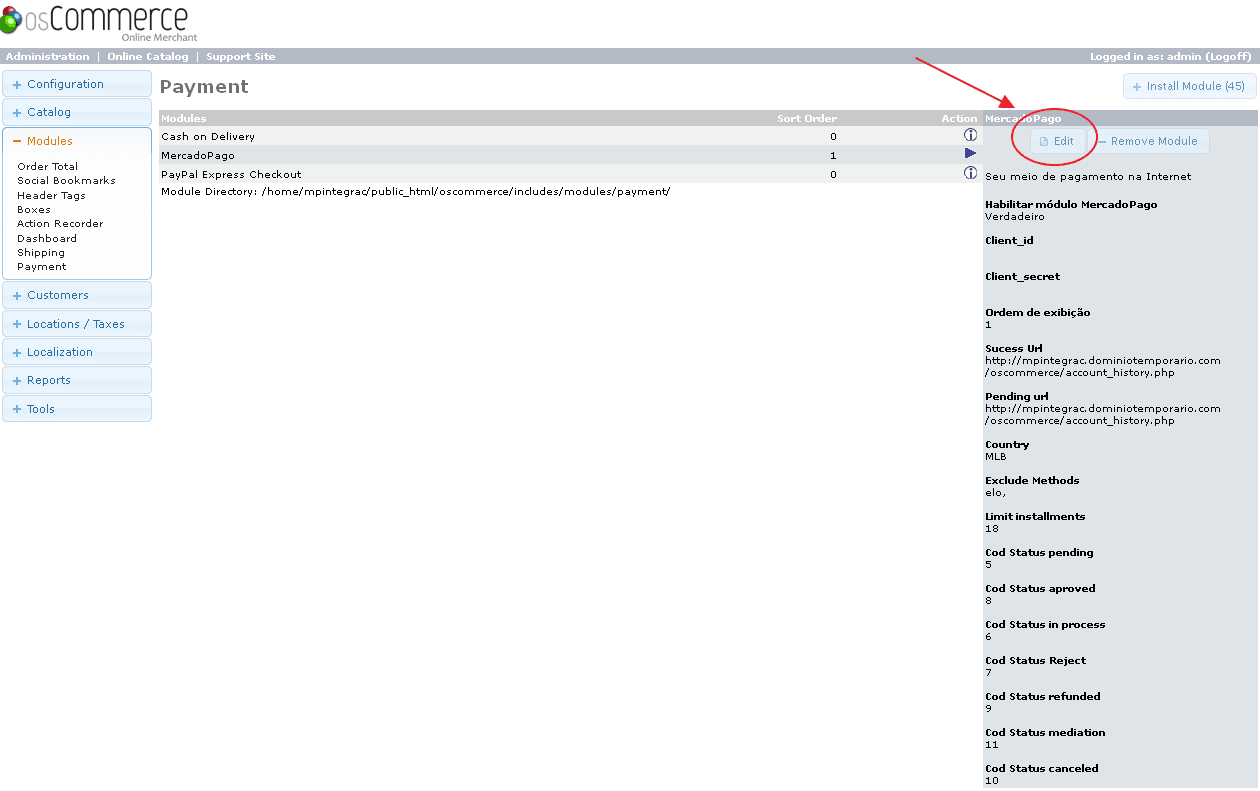 Now, is very important to set your CLIENT_ID and CLIENT_SECRET.

Get your CLIENT_ID and CLIENT_SECRET in the following link.

Other options have been added and you can choose any time after installation:

Sandbox: By default, sandbox have been selected.

Kind of Checkout: Now you can choose what kind of checkout has adapted better with your front-end design, we recommend checkout transparent.

Instant Payment Notification (IPN) URL: In this part, you can check your IPN URL, where you will get notified about payment updates.

DO NOT TOUCH the fields Country, Exclude Methods, Cod Status (fields…). They were generated for you with the correct values, if you need to change them, is highly recommended that you reinstall the module.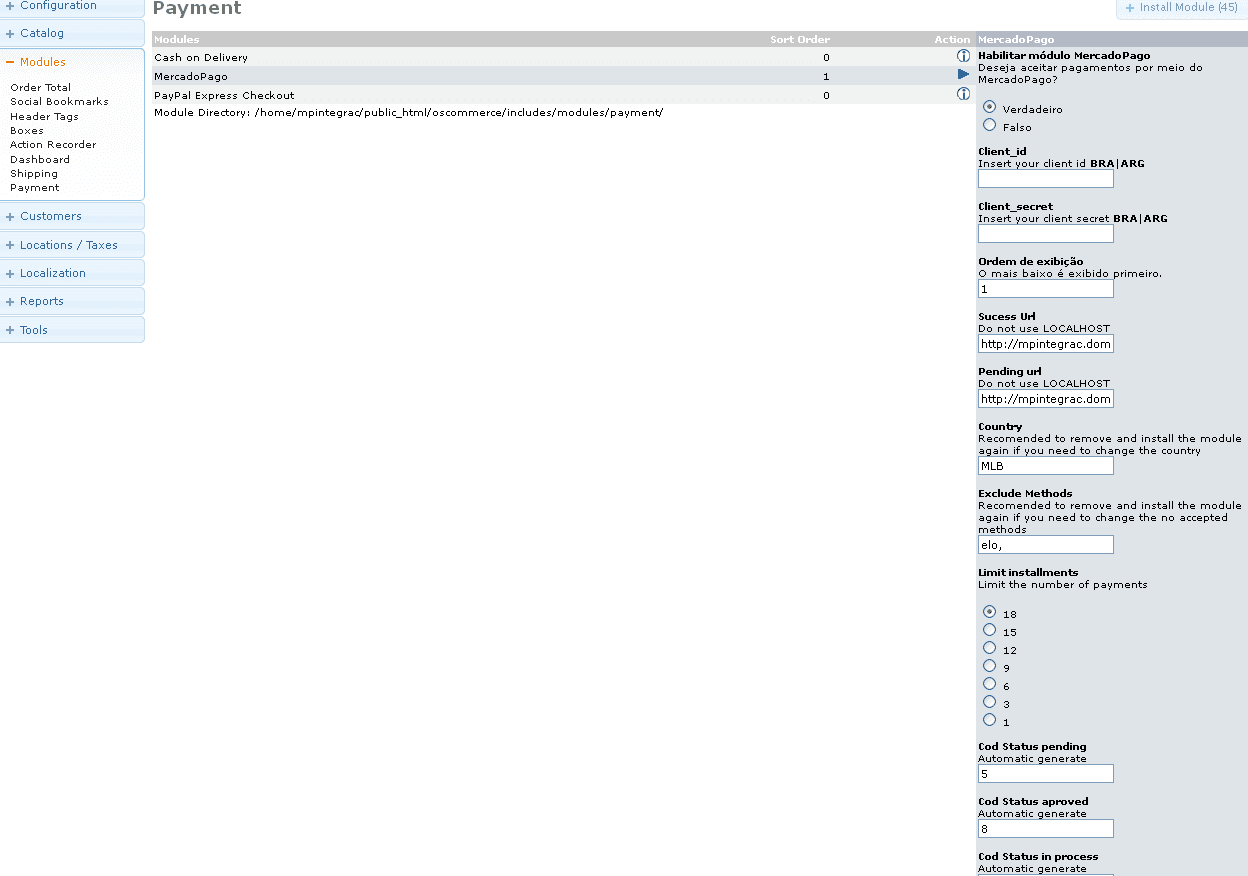 The fields Sucess Url and Pending url were also generated automatically, but if you're testing in a localhost, it will not work. You can change the address to any of your choice, but can't be localhost.

Save your configuration and it's done!!
IMPORTANT: This module will only work with the following currencies:*
Argentina:
Brazil:
Chile:
Colombia:
Mexico:
Peru:
Support
If you have any questions, problems or errors we have a support channel. Write us at our support form with the following information:
Email of your account Mercado Pago.
Details about your question, problem or error.
Files that can help in understanding (Print-Screen, Video, Log Files, etc.).
Version of OsCommerce.
Module version, if you are using.